A VPN concentrator is a Networking device that allows an individual to connect to a network from anyplace in the world, through multiple VPN tunnels. VPN concentrators offer administrative capabilities such as data encryption and decryption, end-to-end data delivery, VPN tunnels establishment, user authentication.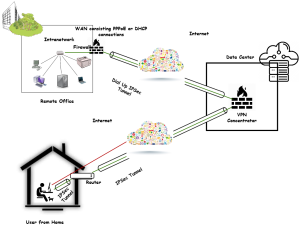 As the above illustration provides a solution for a remote office that has either PPPoE/DHCP WAN connection (dongle/broadband devices). And the user would access the remote office network over VPN (remotely).
In this use case:
The VPN connector is a firewall in the data center.
There is a Dial UP VPN connection configured between an office firewall and the concentrator.
IPSec VPN for a remote user between the data center firewall and the client machine with the VPN client application.
Policies configuration in the VPN concentrator to have connectivity between both the IPSec tunnels.
With the above solution, the remote user will be able to access the remote office network.
Advantages of VPN Concentrator:
VPN Concentrators can provide a private network that is secure and nearly impossible for threats.
VPN concentrators provide high availability, high performance, and scalability and include components, called Scalable Encryption Processing (SEP) modules.
Increases user capacity and Throughput by establishing and configuring networking tunnels for multiple remote users.